There were several gold mines in the area that produced several million dollars (value in late 1800s). The town of Hildreth had a fluid population that reached around 3000 in its glory days. Currently all of the mines are closed. The main mines have the entrances caved in and are not accessible. All of the accessible small holes are very dangerous to enter. Keep out. 2008 three young men died in a mine at Hildreth while searching for gold.

The earliest researched record of census for Annie Combs Ryan and James R. Ryan was 1886 (parents of william "Bill" Ryan, husband of Faustina). Faustina Ryan was 1892. William H.Ryan census found was 1893. Faustina Wren taught school at Hildreth where she met and married Bill Ryan.

James and Annie ryan first settled in Body then moved to Hildreth. James was a blacksmith. He build and repaired machinery for the mines. The Ryans later bought the Hildreth house and property for cattle grazing.

The original Ryan Ranch barn burned in the 1940 when a wildfire went through the area. The barn that was built afterward has been re-built with lumber from an old barn in Fresno that was being torn down. It is now used for storage, The grazing land is leased to a neighbor rancher.

The pumus brick house built by Richard "Dick" Ryan is still the home of Bill Ryan's daughter, Pat Washburn. She and her daughter Faustina give Hildreth tours for the Coarsegold Historical Society.

1946_Hildreth_Rodeo.docx

RYAN_Genealogy_5-09.xls
Ryan_children_early_1900.doc
Stasgecoach_Robbery_at_Hildreth....
HISTORY_OF_HILDRETH.doc
Dick_Ryan_2.pdf
Ryan_Ranch_Rodeo.doc
Old_Time_Mountain_Area_Picnics.d...
dolores_topping_1938.doc
Hildreth_house.doc
school_house_inside.doc
school_swing.doc
school_house_with_flag_pole.doc
The_old_Hildreth_Hotel_around_18...
Kids_at_Hanover_School.doc
Preparing_lunch_for_branding_cre...
Faustina_anf_Bill_Ryan_4-24-1974.jpg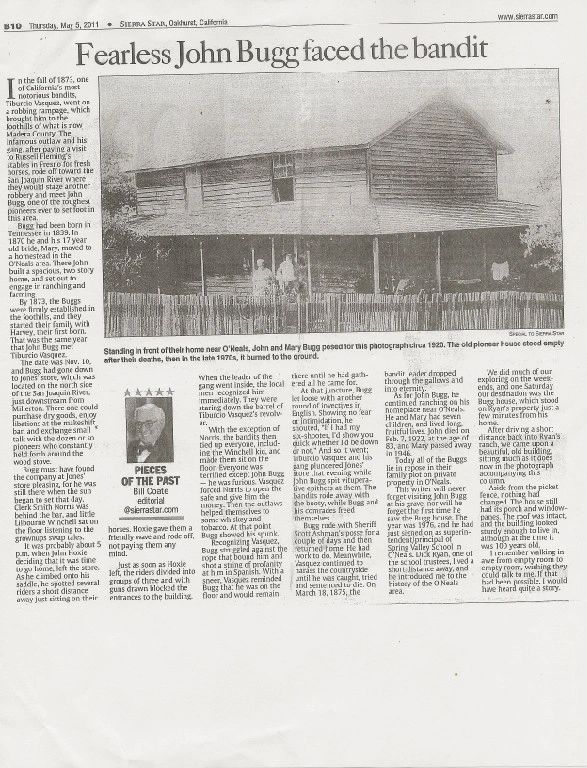 Clampers Chapter 41-49 erected a monument for the historical town of Hildreth. The dedication was 9-27-14. Nearly 100 people addended. Frank Bigelow, California Assemblyman, presented a proclamation. A member of the Hildreth family attended. BBQ followed with lots of great fellowship.